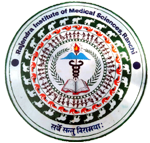 राजेन्द्र आयुर्विज्ञान संस्थान, रांची
Rajendra Institute of Medical Sciences
An Autonomous Institute under the Govt. of Jharkhand
Ranchi, Jharkhand
About Us
The Rajendra Institute of Medical Sciences (RIMS) is a Medical Institute of Ranchi University in Ranchi, the capital of Jharkhand, India. The college is an autonomous body established under an act of Jharkhand Assembly and is one of the premier medical colleges in the state and India.
The institute was established in 1960 and was originally called Rajendra Medical College Hospital after Rajendra Prasad, the first President of India. The Medical College Hospital came into existence in February 1965.Dr N.L. Mitra was the first principal of the college. Dr. K.P. Shrivastava was the first director of the Institute after it was renamed.Currently RIMS is in news for its up gradation. The Institute provides free medical service to the patients along with essential drugs.
The college is 1500 bedded Multi-Speciality Hospital with Advanced Diagnostic Tools. There is Oncology centre with the latest Radiation Machinery, a 100 seated Dental College. The college also has a 14 bedded Trauma centre, the first of its kind in Eastern India.
The intake every year previously was 90 students for the undergraduate course. As per the new regulations of the MCI (Medical Council of India) it has increased its seats to fill a new number of 150 undergraduate students. The college provides post graduate education in almost all the departments which constitutes around 150 intake admission every year. The Neurosurgery Department offers M.Ch. (Master chirurgiae or Master of Surgery) degree. About 15% of the total seat is filled through Central Quota & rest through (JCECE Board) Examination. Under PMSSY scheme, a 240 bedded Super Specialty Hospital Oncology, Cardiology, Urology and Paediatric Surgery Related Diseases will be dealt with all modern facilities.