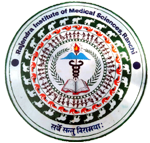 राजेन्द्र आयुर्विज्ञान संस्थान, रांची
Rajendra Institute of Medical Sciences
An Autonomous Institute under the Govt. of Jharkhand
Ranchi, Jharkhand
Vision & Mission
VISION
"To deliver medical services of the highest standard where excellence, compassion and innovation set the standards, where interests of the patients and their families hold top priority, where technology is state-of-the-art, where our faculty, students and staff experience an efficient and cooperative atmosphere and where today`s education and research leads to tomorrow's cure".
OUR MISSION
---
We are dedicated to provide excellent and affordable health care services to the people we serve. We care for the sick and believe in treating all with respect and dignity which comes from compassion and collaboration of our doctors, staff and students.
We demonstrate our mission by:
Excellence - We give in our best to provide the highest-quality care for our patients and families. Innovation and continuous improvement keeps us unbeaten.
Compassion - We strive to understand the needs of each of our patients and treat them with respect, dignity and passion. We put forth the interests of our patients above our own.
Collaboration - We have built a work environment where each & every person is valued, respected and is given an opportunity for personal and professional growth. We have and we will keep building healthy relationships with other hospitals and institutions.