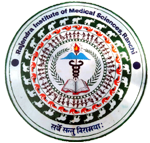 राजेन्द्र आयुर्विज्ञान संस्थान, रांची
Rajendra Institute of Medical Sciences
An Autonomous Institute under the Govt. of Jharkhand
Ranchi, Jharkhand
Conferences & Seminars

Annual Research Day, 14th August 2023
view Advertisement || Programme Details || Result

Workshop on Basics of Biostatistics for Doctors, dated 25th - 26th July 2023
view Programme
|| Registration Link
Report - A National Seminar on the occasion of "National Statistics Day" on 30th June 2023
English Version
|| Hindi Version
Two Days Training for Hospital Acquired Infection Prevention and Control, Date: 13-07-2023 to 14-07-2023
National Oral Health Program(NOHP): The Past, Present and Future held on on 15-06-2023
AO CMF Seminar—Introductory, June 30-July 1, 2023 | 30-06-2023
Workshop on "Comprehensive Use of Lasers in Dentistry" organized by RIMS, Ranchi | 14-03-2023
Lecture on Pancreas Transplantation and Alaska by Dr. Dinesh Ranjan (MD, FACS, FICS)
Prof. (Dr.) Ashish Jain to deliver Oration at 46th National Conference of Indian Society of Periodontology.
The Hands-on Workshop on Basics of Biostatistics for Doctors is postponed due to unavoidable circumstances till further notice
CDE Program by department of Prosthodontics, Dental College on 21st and 22 nd September on Basics of Dental Implantology.
Department of Periodontology, Dental College, RIMS celebrates ORAL HYGIENE DAY on 1st August. Guest Speaker will be Dr. Ashish Jain (Principal, Dental College, RIMS).
International Webinar Series, Dated - 25th January, 2022 (Tuesday), 03:30 PM
Focused Critical Care Echocardiography Workshop
ISMSCON - 2021