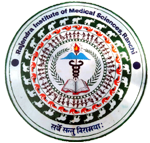 राजेन्द्र आयुर्विज्ञान संस्थान, रांची
Rajendra Institute of Medical Sciences
An Autonomous Institute under the Govt. of Jharkhand
Ranchi, Jharkhand
EMERGENCY OBSTETRICS CARE (EMOC)
---
MOHFW & GOI partnership with FOGSI / AVVNI Foundation in association with JHPIEGO a unique program 'Excellence centers' for EMOC - Nodal centres / Tertiary Care centres to serve as EmOC training site for MOs based at FRU for saving maternal lives.

Program Objectives
To develop capacity of doctors (General Practitioners & non speciality Medical Officers) in India to provide high quality Emergency Obstetrics Care (EmOC) services in rural areas where skilled obstetricians are not available.

Why EMOC (Emergency Obstetrics Care)
To reduce Maternal Mortality in country.
Trained health workers in Emergency Obstetrics Care.
To improve health facilities at PHC, APHC, SDH, ref Hospitals in rural areas.
To reduce many health care challenges & improve health indicators.

Achievements of EMOC in FY 2016-17
In Financial Year 2016-17 there is one batch of EmOC training was completed in group of 7 MOs from 24.08.2016 to 13.12.2016 (In this duration Dr Jacinta Minz, HOD, Dept. OBGY, RIMS was our cheif Co-ordinator.

Specific Objectives of the projects
Train MOs
Upgrade their skills and capacity of in EmOC and related maternal health services
EMOC team members :
CC- Dr. Anubha Vidyarthi, HOD, Dept. of OBGY, RIMS
TCTC- Dr. Atima Bharti, Associate Professor, Dept. of OBGY, RIMS
Master trainers -
Dr. Archana Kumari, Associate Professor, Dept. of OBGY, RIMS
Dr. Bratati Moitra, Associate Professor, Dept. of OBGY, RIMS
Dr. Neelam Nalini, Associate Professor, Dept. of OBGY, RIMS
Nodal Officer- Sanjay Nishad
Secretary- Debraj Roy