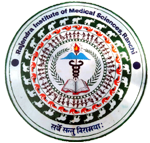 राजेन्द्र आयुर्विज्ञान संस्थान, रांची
Rajendra Institute of Medical Sciences
An Autonomous Institute under the Govt. of Jharkhand
Ranchi, Jharkhand
RIMS Internal Committee towards Sexual Harassment
Rajendra Institute of Medical Sciences, Ranchi, is a premier higher education institution which has a zero-tolerance policy towards any act of ragging and sexual harassment towards any student or employee. As per the UGC guidelines a dedicated Internal Committee (IC) is instated in our institution. The Internal Committee (IC) is formed according to the provisions of the Sexual Harassment of Women at Workplace (Prevention, Prohibition and Redressal) Act, 2013. Internal committee's twin functions are:

1) To hear and address complaints regarding sexual harassment at Rajendra Institute Of Medical Sciences , Ranchi,

2) To spread awareness about gender-related issues and functioning of the IC Any grievance may be reported at rimsicc@gmail.com or through its members.
Complaint Form
RIMS Internal Committee Members
SOP RIMS Internal Committee
The Sexual Harassment of Women at Workplace (Prevention, Prohibition and Redressal) Act, 2013