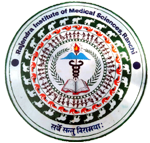 राजेन्द्र आयुर्विज्ञान संस्थान, रांची
Rajendra Institute of Medical Sciences
An Autonomous Institute under the Govt. of Jharkhand
Ranchi, Jharkhand
SOCIETIES
---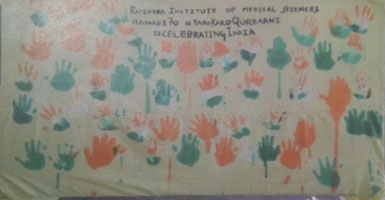 The year 2016 saw the rebirth of many societies whose purpose was to involve students into different kinds of activities to promote overall development of the students.
LITERARY SOCIETY
A literary society, headed by Dr. Ranjeet Kaur Arora and Dr. Chandrashekhar Prasad, does all the work pertaining to literary events. On the occasion of the 70th Independence Day, the college stepped forward and celebrated ' Azaadi 70 '. The literary society organised a signature campaign and a hand imprinting campaign for all the members of the institute with an idea to bring them together. On the same occasion an essay writing competition was held.
The literary society also looks after the publication of the annual information booklet, ' Varnan ' and an annual students magazine 'Spriha'. The society also aims to publish academic bulletins quarterly.
QUIZ SOCIETY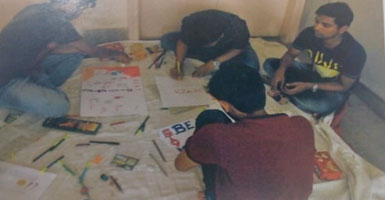 To promote inquisitiveness and general awareness among the rimsonions, the Quiz Society was initiated recently under the headship of Dr. Satish Chandra. It aims to organise quizzes at the inter an intra college levels and promote participation of students in state and national level quiz competition. The society envisions to organise medical quizzes as well as sports, science, general and miscellaneous quizzes among others.
PRAYAS
A noble initiative by the students of RIMS, Prayas aims tp provide free quility education to the underprivileged childern in and around the campus. The volunteer has to teach middle school and high school students for hour, 3-4 days a week.
MOVIE SOCIETY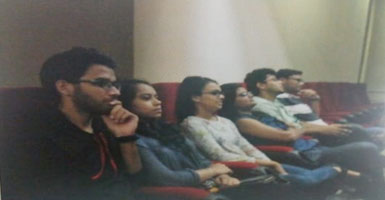 The RIMS folk have a knack for movies, which gives them a much needed break from their hectic schedule and a source of entertainment. However, most of the movie theatres of the city are quite far from the campus. To solve this issue and provide a yet another opportunity for the Rimsonions to socialise with each other every month, the Movie Society of RIMS organise movies at least once a month. The nedicos gather under one roof to have a fun time. At present it works under the leadership of Dr. Anupa Prasad and Dr. Rahul Prasad.
RIMS ECOLOGICAL SOCIETY
The Ecological Society, Rajendra Institute of Medical Sciences, Ranchi is a venture established in our auspicious College for the beautification and conservation of our beautiful campus. The Society plays a key role in maintaining the scenic beauty of the campus and was established on 31st July, 2022and is responsible for upholding plantation drives for a more greener environment. -Our Chairman, Dr. Rajeev Ranjan Sir (Assistant professor Anatomy) who has been the most crucial part for the stablishment of this Society; he has been a strong pillar and a vital confidant throughout. -Our Society has marked its establishment by conducting a plantation drive on 31st July, 2022 for a greener and beautiful Rims campus. >>>Read More