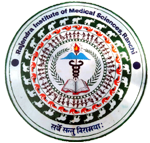 राजेन्द्र आयुर्विज्ञान संस्थान, रांची
Rajendra Institute of Medical Sciences
An Autonomous Institute under the Govt. of Jharkhand
Ranchi, Jharkhand
Organ Donation & Pledge Form
---
Frequently Asked Questions
Q. 1. Who could be a donor?
A.1. Anyone, regardless of age, race or gender can become an organ and tissue donor after his or her Death (Brainstem/Cardiac). Consent of a near relative or a person in lawful possession of the dead body is required. If the deceased donor is under the age of 18 years, then the consent is required from one of the parents or any close relative authorized by the parents. Medical suitability for donation is determined at the time of death.
Q. Does organ removal disfigure the body or affect last rites?
A. No.
The appearance of the body is not affected. A highly skilled surgical transplant team removes the organs and tissues which can be transplanted to other patients. Surgeons stitch the body carefully, hence no disfigurement occurs. The body can be viewed as in any case of death and funeral arrangements need not be delayed. The removal of organs or tissues will not interfere with customary funeral or burial arrangements.
Q. What, if I had pledged to donate organ but my family refuses after my demise?
A. In most situations, families agree for donation if they know of their loved ones will. If the family, or those closest to the dead person, object to the donation even after the person who has died has given their permission, either by telling relatives, close friends or clinical staff, or by carrying a donor card or registering their wishes on the NOTTO website, healthcare professionals will discuss the matter sensitively with patient party. They will be encouraged to accept the dead person's wishes. However, if families still object, then donation process will not go further and donation will not materialize.
Q.
A. You can be a donor by expressing your wish in the authorized organ and tissue donation form (Form-7 As per THOA). You may pledge to donate your organs by offline registration by downloading Form 7 from our website www.rimsranchi.org and sending it to the Dr Rajiv Ranjan, Nodal officer, SOTTO, RIMS, Ranchi-834009.
Q. Will pledging for organ donation means that my organs/tissues definitely be donated after my demise ?
A. No
Only few people die in circumstances where they are able to donate their organs. That is the reason we need more people to take the pledge for Organ Donation and register themselves as potential Donors.
Q. Can I be sure that the Doctors will try to save my life if I'm registered as an organ donor
A. Yes
It is the duty of a Health professional to save the life of a patient first. Despite all efforts, if the patient dies, organ and tissue donation can then be considered and a completely different team of retrieval and transplant specialists would be called in.
Q. Who can give consent for organs/tissues donation after brain-stem death?
A. A person legally in possession of the deceased person can sign the consent form. A donor's family has to give consent for organ/ tissue donation before the process of organ retrieval can be carried out. This is usually done by a parent, spouse, son/daughter or brother/sister. By signing a consent form, the family declares having no objection for the removal of organs from the body of their loved one. It is a legal document. This paper for which is kept with the hospital.
Q. Having some pre-existing medical condition, can I still become a donor?
A. In most circumstances you can be a donor. Having a medical condition does not necessarily prevent a person from becoming an organ or tissue donor. The decision about whether some or all organs or tissue are suitable for transplant is made by a transplant team or expert, taking into account your medical history.
In very rare cases, the organs of donors with HIV or hepatitis-C have been used. There have been instances where one HIV positive person has donated to another HIV positive patient. This is only ever carried out when both parties have the condition. All donated organs go through rigorous checks to protect it from any infection.